Hey Folks,
Since there's not a lot of activity on the forum and since I do seem to be able to link to Photobucket.com, I thought I'd post a couple of astropics I shot the other night...I hope no one minds (if the mod's have a problem, please let me know and I'll edit them). These pics are not my best work by a long shot. I had the new camera out at Findley State Park the other night and was testing a few things...I know I can do better, but these pics prove I can do it at least
. The shot's of the moon and Saturn were taken thru the eyepiece of my telescope (a 5" Orion Mak for those interested) and the camera used was my new Canon Rebel XT with a Tamron 28-80mm lens. All three pics were processed in Photoshop.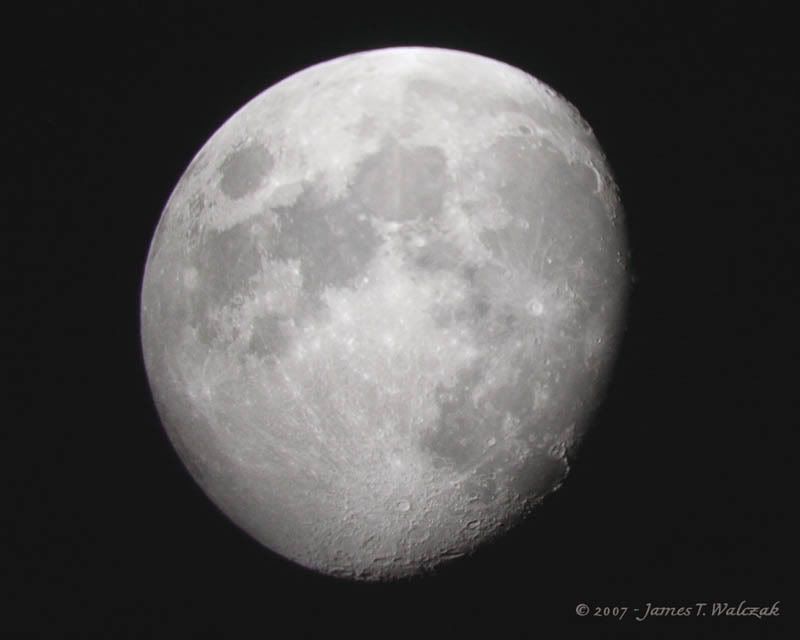 I'm pretty pleased with this shot of the moon all things considered. I've shot better pics of the moon thru the scope with both my Sony and my former Olympus...but again those were after some degree of experimentation with both cameras. I had to sharpen this pic a tad and I did get a small degree of chromatic abberation (I think the mirror on my scope may be a tad out of adjustment), but the biggest problem was simply the noise...I had been doing something else with the camera and had the ISO bumped all the way up to 1600 and I really only needed it set to 100 or 200. One of those mental notes for next time I guess! LOL!!!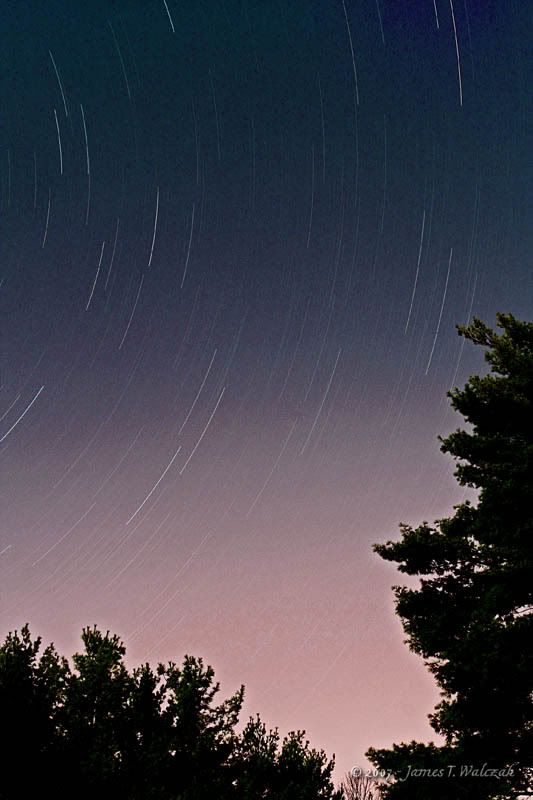 Wednesday night was my first ever attempt at doing star trails. This was actually the last shot of the night...I took this one between 3 and 4 am, about an hour and a half before moon set and it's a 45 minute exposure. By this point, I was freezing my butt off, so I actually had the camera setup on the tripod right next to my minivan with the cord for the remote ran thru the window. I sat in the van with my youngest dog and the heater going while I watched "Monster's Inc" on my laptop! LOL!!!! Boy talk about hard work as a photograher eh?
. Again here there's more then a fair amount of noise in the image but when I tried to do NR on it, I started to loose the details of the star trails themselves, so I left it as it.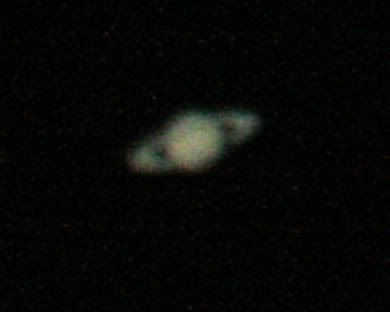 This is probably the worse and most specactular pic I took that night. Obviously there is a signifigant amount of noise in this pic (ISO 1600), but again this image of Saturn was shot with the camera hand held thru the eye piece of my telescope. Once I get the right T-adapter and a motor drive for my scope, I should at the very least be able to capture some incredible images of the planets (if not a few deep space objects). It's certainly not Cassini quality, but again just a test and it prooved I can do this!
If the weather works in my favor, I'm heading back out in a couple of weeks during the new moon and should, with a little luck, be able to come up with some better shots.
Alrighty, that's it for now. As always comments and critiques are quite welcome!
Bright Blessings & Gentle Breezes,
Jim