ThinkTank Modular Belt System Review
After we made the decision to get our first piece of ThinkTank goodness, the
Streetwalker HardDrive
backpack, the one we both love and have used daily since we got it, we really started looking at other pieces of equipment we could put to good use.
Cindy and I cover alot of festivals and events where we need access to multiple lenses and accessories at the blink of an eye. Backpacks and shoulder bags are fine and dandy when you're out shooting photography that isn't moving lightening fast and you can take your time when it comes to changing lenses or fumbling with filters and accessories.
But when covering a rodeo, motorcycle race or a concert and you only have a few minutes to get
The Shot
or miss it forever, you rarely have time to take a back pack off or reach into a shoulder bag to fumble for that lens or flash that you need. This is when and where the Belt Systems shine
There are a few companies that make belt systems, but after doing a few days worth of research, all arrows and reviews pointed me to the ThinkTank Modular System
What They Offer Right from the Factory
Depending on what you are looking for in a belt system, ThinkTank offers two different styles.
One is their
Skin Components Belt System
that is more light weight than the beefier Modular Component System. The Skin Component Belt is unpadded and comes with just the heavy duty webbing and the pouches are constructed of a heavy duty nylon, without the dense padding surrounding what you carry in them.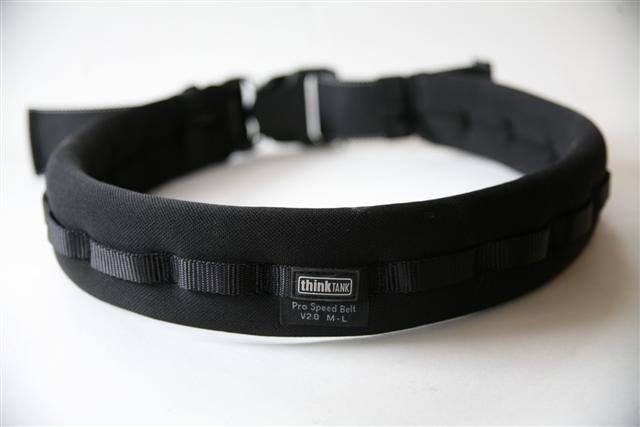 The
Modular Component System
is the same heavy duty webbing, but also has a thick padded fabric wrapped around the belt and the pouches all have padded inserts. The fabric itself feels a bit more padded and seems like it would do a much better job protecting their contents. I figured once you have a few pouches filled with heavy glass and accessories, I'd be thankful for that padding after a long day of wearing it around my waist.
The belts and accompanying pouches can be purchased separately if you'd like to mix and match the two styles, or each set can be bought as a package deal where ThinkTank combines the most popular pouches together and takes a little off the total price to give savings to their customers.
Skin Component pouches have no padding on the fabric and are highly compressible if you're the type that needs to bring everything with you in a suitcase, then use it once you've reached your final destination.
Modular Component pouches have a nice thick padding between the durable fabric to help protect your costly gear, and seem much more safe for the type of shooting Cindy and I do on a regular basis. We plan on using these pouches while hiking, biking and using our gear out in the real world when we're not covering events, so I wanted all the extra protection I could get when carrying lenses around my waist.
To be able to know what I was getting, I found a camera shop that carried the ThinkTank line-up and spent about an hour trying everything on, seeing which belt fit me best while I had a pair of jeans on with my normal belt around my waist.
I wanted to see how it fit with a light jacket on and with just a t-shirt on. I slid a few lenses in and out of the various pouches to see how fast I could make a lens change and how easily the belt could slide around my waist.
One of the cool features of the Modular Component System is the ability to lock the pouches onto the belt. If you have the system set up just the way you like it, you can slide a plastic sleeve on the back of the pouch through the hoop on the belt which locks it in place.
If you're like me, and like to be able to slide the entire system around your waist so you dont have to reach around to your back to find something, then you just hook the Velcro system around the belt itself leaving the plastic piece out of the hoop. I was a bit leery of this at first, but when the system is on, it works flawlessly.
The ThinkTank Modular Set
I ordered the box set which included 6 separate pouches. ThinkTank knows what they're doing because while looking through their catalog, these were the exact pouches I would have ordered if they didn't offer the complete set. By ordering the complete set, you save 20% over the price of purchasing the items separately.
The belt is purchased separately, and I'm glad I was able to find a camera store where I could try on an actual belt first. The catalog says a Small-Medium Belt is sized for a 27"-34" waist and I'm currently wearing a 32" waisted pair of pants. (
Hold the Fat Boy Comments here
)
But when I tried on the belt in the store while wearing a pair of jeans and my regular leather belt used to hold my pants snug, the Small-Medium belt seemed too snug.
Add a few pouches to the circumference of the belt and it all starts to take away from those few inches of leeway. The Medium-Large Belt fits much better even though it says its sized for a 32"-42" waist.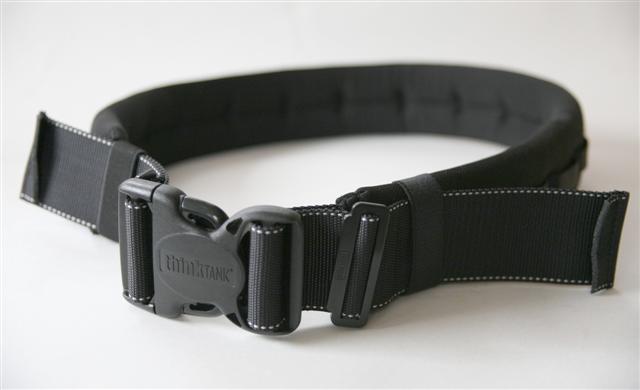 The buckle on the belt itself is nice and big and locks very solidly. I dont think there is any way it could accidentally come loose which was a fear of mine before I had actually used it. Who would want a belt system with thousands of dollars worth of gear to come crashing down to the pavement because of a flimsy buckle? ThinkTank overbuilt their buckle, so I dont think this will ever be an issue.
When the package first arrived, I thought I was missing a bunch of pouches, but the guys at ThinkTank have figured out how to fit more into less packaging and stuffing many of the smaller pouches into the larger ones, so make sure you pull everything out before you go calling the Customer Service department to complain...LOL
The Pouches Themselves - Get Ready to Drool!
The 1st thing I noticed about the products was the quality. The fabric is nice and thick and looks like it will take years of daily abuse. The padding is dense and protective, yet not bulky.
The zippers are big and easily pulled and all come with toggles hanging off of them that makes zipping them open or closed very easy without even looking.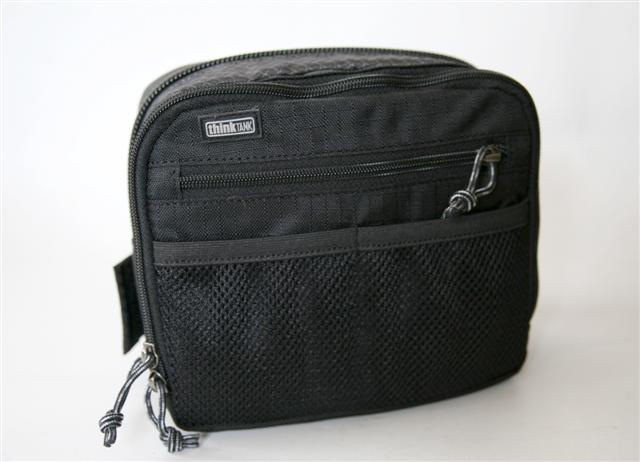 I liked the way the Velcro attachment points not only went around the belt with alot of fabric to contact with on the bottom of the pouch, but each pouch also has little tabs that wrap around the sides of the pouch itself to hold securely.
I think you could be weaving your way through a thick crowd with the belt system on your waist and would never have to worry about one of the pouches being pulled off. Something that has happened to me with a no-name pouch that was hooked to my backpack waist harness at a concert. Luckily when the weighted pouch dropped from my waist, I noticed it immediately and was able to grab the lens that had fallen to the ground before it got trampled on.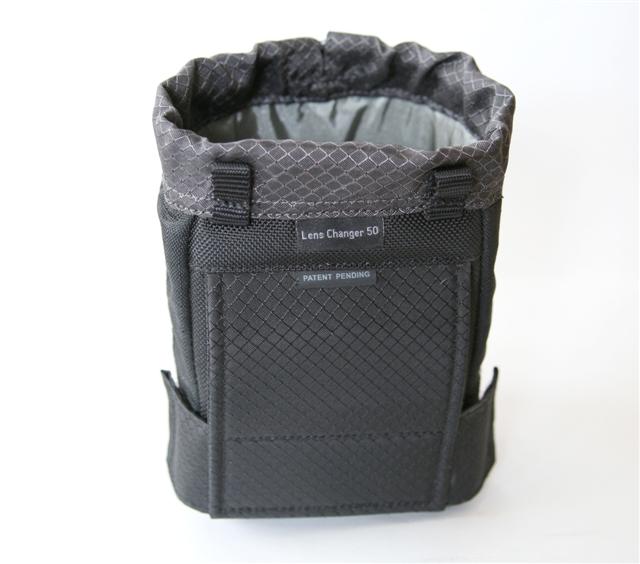 I tried to pull one of the ThinkTank pouches off the belt system by just pulling at its sides and unless you grab ahold of the bottom of the Velcro attachment point, its not coming loose.
Another unique ThinkTank feature is each pouch comes with its own built in rain-fly. Granted if you have the rain-fly on the pouches, it makes getting into them somewhat cumbersome, but having the ability to cover them if you're at an event and you get caught in a downpour is reassuring. I threw one of those plastic rain-ponchos from the Dollar Store in the Speed Changer Pouch incase this ever happens.
I figure this way I can have the entire belt system covered, and still have my hands free to get to the pouches. This will also give me a protective cover to change out lenses in the rain if need be.
So lets start with the Speed Changer since I just mentioned that pouch.
ThinkTank Speed Changer Pouch
The Speed Changer is the perfect sized pouch to keep on the belt system for carrying spare batteries, a note pad and some pens, business cards, the
Epson P-4000
hard drive that looks as if ThinkTank made it specifically for because of how nice it fits inside, and what ever else you think you need to bring along.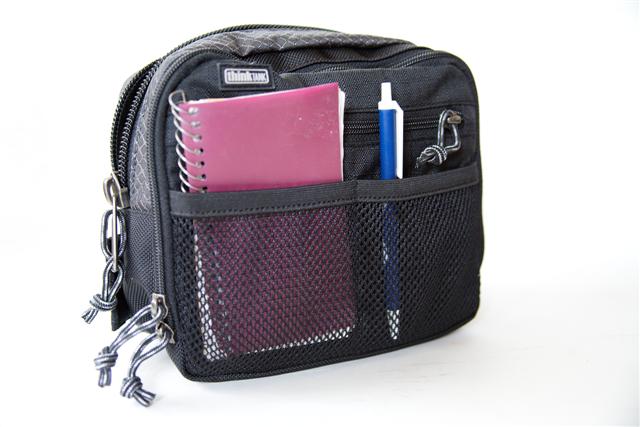 Its the perfect size pouch for small nick-knacks that always seem to get lost in the bottom of a backpack or shoulder bag. I've found myself carrying it around my waist even at times when I'm not even carrying the ThinkTank belt system. I just attach it to my regular belt to carry some extra gear while hiking or riding the bike or especially if I'm needing quick access to a pen and paper while covering something newsworthy. It's become my personal Man-Purse.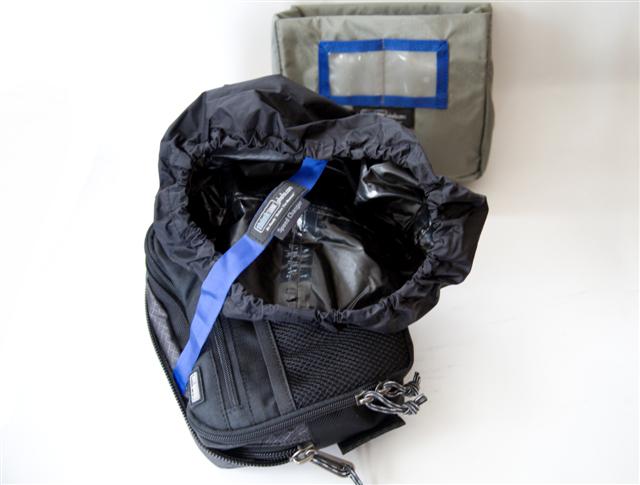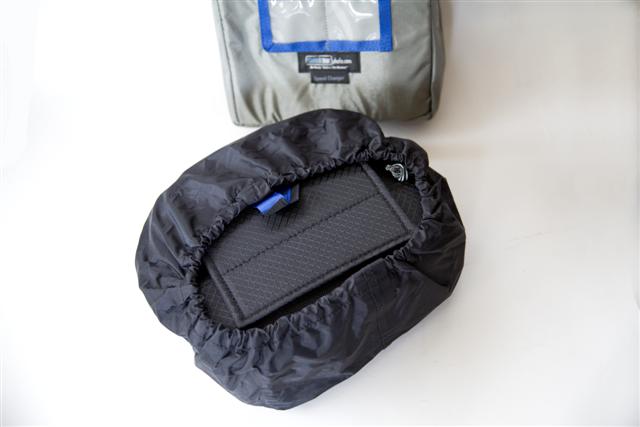 The Pouch with the Rain Cover being pulled out and a shot of the back with it on.
It has a rain cover that comes off and can be left at home if you know the weather is going to be nice. The rain cover itself is very sturdy feeling and has taped seams to keep out the elements when the weather gets nasty. There are slots to hold extra Media Cards on the padded insert and slots to hold business cards too. They've thought of everything!
The outside mesh pockets are perfect for holding a Lens Pen, Ink Pen and a Energy Bar or two and the zipper pull is super easy to get the whole thing opened.
Once you zip it open, you can reach your hand in there without the zipper itself biting the skin on the top of your fist, and with the zipper closed, there is a nice flap that protects the top for extra dirt and water protection.
It comes with a thick padded insert that I personally thought took up too much room, but its easily removable and fits perfect in the Backpack where it now holds some odds and ends that were bouncing around in there.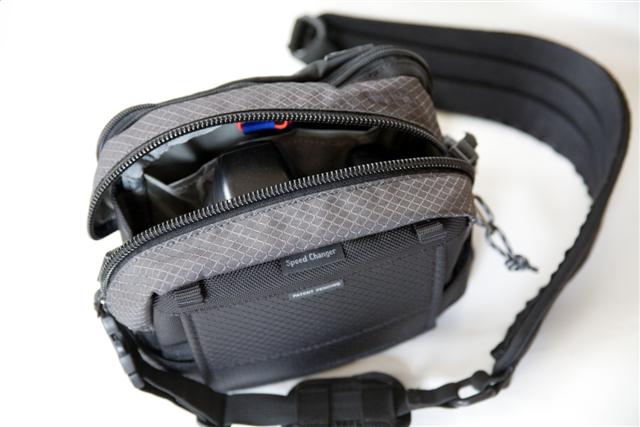 Speed Changer with Canon 30D body with Grip Attached, still enough room to tuck in the strap
With the insert removed, the Speed Changer can hold a Pro Sized Body with the largest shoulder strap still attached. So even though this looks small, it will hold volumes of equipment for its size. While trying to see what I could fit in there, I also found it will hold either the Canon 430EX or the 580EX (Standing Up) without the
Sto-fen Diffuser
attached.