Kirk Window Mount Review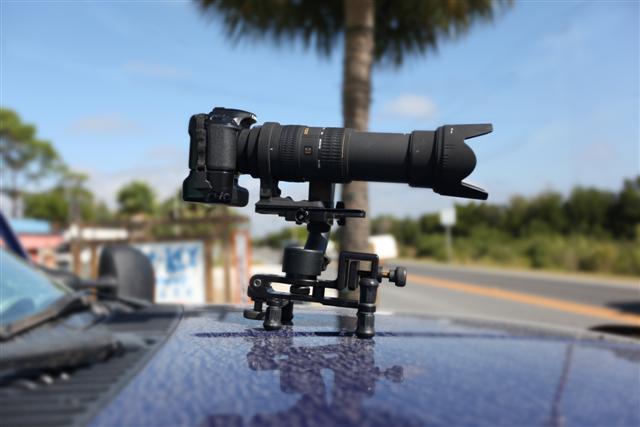 I find photography funny at times. With each new piece of equipment you save up to buy, you think that you've finally got what you need to complete your gear list. Then you go out shooting with that new piece of equipment and the subject you're trying to photograph throws you a curveball.
This is what happened when we got to
Yellowstone National Park
planning to spend the entire season there photographing the wildlife. We had spent our entire savings on a Canon 400 f/2.8 lens along with a 1.4x extender and a 2x extender hoping it would get us closer to the wildlife, which it did very nicely. Love this lens and everything about it!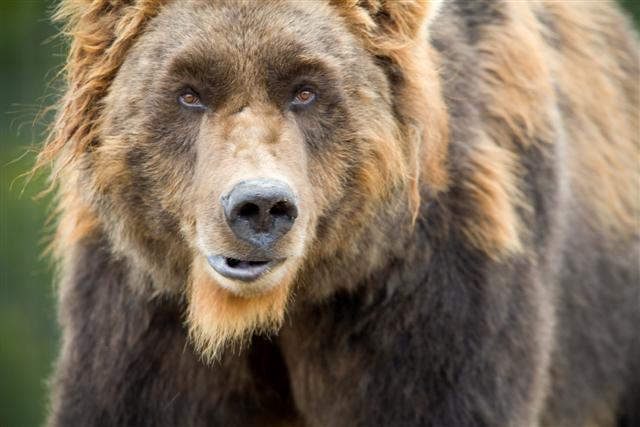 There are a few things that go along with this new lens. Once you start using it you realize you need a larger tripod to hold that monster. So of course we had to get a new, stronger tripod. Everyone knows a lens of this size and girth is useless unless it's mounted on a
Wimberley Gimball Head
. So those were both added to the gear list also.
Within our first week in Yellowstone, we both knew we needed one more piece of gear to complete the total package. Since the park rangers are very strict when it comes to photographing the wildlife along the edges of the roadway, the places the animals usually congregate at the most, you learn real quick that you're going to be doing lots of shooting from the comfort of your vehicle if you want to get good shots.
You always need to stay at least 50' away from the animals unless you're in the safety of your vehicle, and then the park rangers can still ask you to move if they feel you're posing a threat or making the animal uncomfortable. But many times, we found that as long as we'd pull up, shut the truck off and just sit and watch, the rangers would leave us alone and go talk to the people who were trying to get out of their vehicles.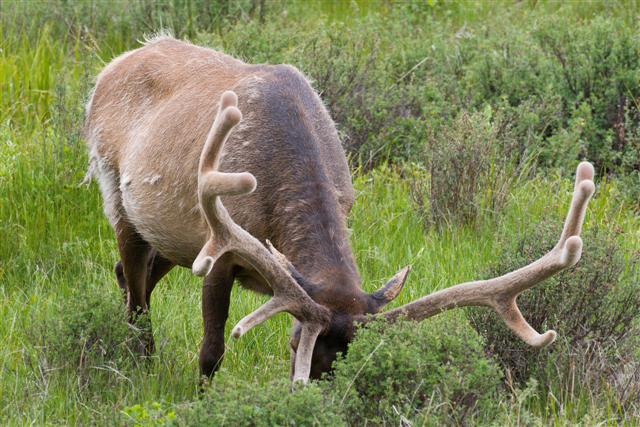 You dont want to get too close when this guy is right beside the road
Since we planned on being in the park for over 5 months, we knew we were going to spend alot of time shooting out of the truck!
Many times the park rangers would write tickets or warn visitors who tried to get out of their cars when the bears, the bison or the elk were walking along the edges of the road. We learned that staying in your car allowed you to get better shots because once the door of the vehicle opened, the animals would usually run away.
Working with another photographer friend who had spent many a season shooting in the Park, he told me what I needed to get for shooting wildlife in a National Park and do it from the vehicle was a Window Mounted Tripod.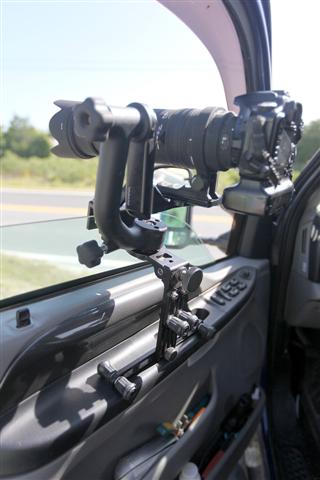 There are a few different models out there, but everything looked pretty cheap and nothing said it would hold more than a pair of binoculars.
The Kirk Window Mount claims to hold up to a 800mm lens and judging by the stoutness of it's build quality, it looks like it could easily hold it. The
Kirk Window Mount
basically turns your car into a tripod and after borrowing our friends a few times to try it out, I knew I needed to add one to our gear list.
I shopped around and found one on the internet and ordered it right away.
The Kirk Window Mount is a high quality piece of equipment that looks like it will last for years of hardcore use and abuse. The very versatile mount is made of black anodized 6061-T6 aluminum with rubber covered feet and oversized, easy to grip controls.
Using the Window Mount, you'll find very quick that you're not limited to just using it on your window. Over the course of the season we spent in Yellowstone, we used it many times with our Canon 400 f/2.8 and a borrowed Canon 500 f/5.6 with some stunning results. It only takes a second to set up once you're pulled over and the more times you use it, the quicker that set up becomes.
Another trick you learn while shooting in the Park System is to use your vehicle as a shield. For some reason if the animals see you get out of the vehicle, they usually run in the opposite direction. If you can get out and hide behind the bulk of the vehicle, they'll go about their business and you'll end up with natural looking shots others only dream of.
One thing we learned right away is you keep your camera and lens mounted to the Wimberley/Kirk Combo with it lying in the back seat and make sure you have the camera ready at all times.
I cant count the amount of times we'd see a big elk, buffalo or coyote and pull to the side of the road grabbing the rig and throwing it across the hood all within an instant.
My only complaint with this set-up was the bottom knob on the Wimberley Gimball Head will hit the window if you're trying to pan with your subject at a 90° angle. We solved this by using a different gimball head we have unless we were shooting with the big Canon 400, which I only trusted to the heft of the Wimberley.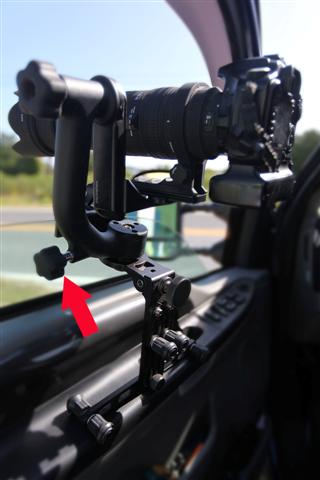 The arrow in that photo is pointing to the swivel knob I'm talking about. If trying to swivel the camera to the right, that knob would hit the window and not allow full movement.
If you were to use a ball head on this window mount, the issue would be solved 100%.
Its pretty amazing for how simple this set up is, how sturdy it is to use. If you plan to do any serious
National Park Photography
, a Kirk Window Mount should be on the top of your gear list. Right below the really long lens!
We've seen these used with spotting scopes, long range binoculars and I've even had a friend tell me he uses it for his hunting rifle so he can sit and listen to the radio and have the heat on and keep his rifle ready to shoot in a instant...Now I dont really call that hunting, but I'm just saying what I've heard it used for.
Here are a few more images of what the mount looks like and various photos we were able to capture while using it.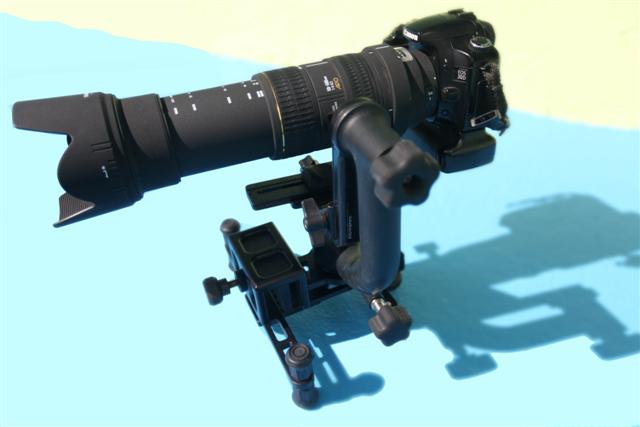 Canon 30D w/Grip & a Sigma 50-500mm mounted on a Wimberley WH-200 Gimball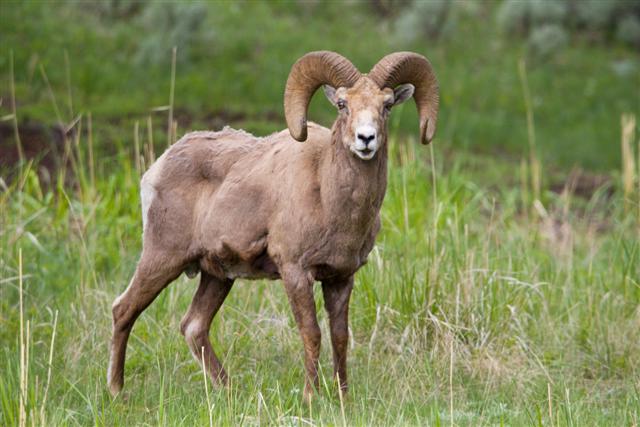 Big Ram just off the side of the road in the Lamar Valley of Yellowstone National Park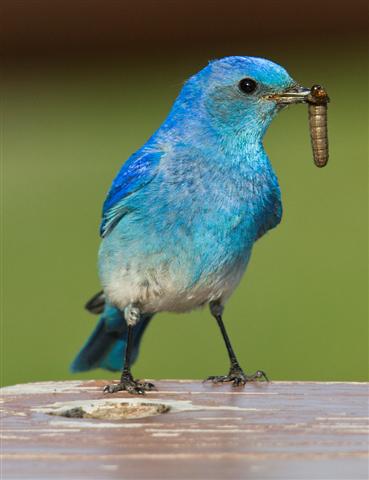 I parked beside a picnic table near this blue birds nest. As long as I stayed in the truck, it would land on the picnic table every time it returned to the nest and check me out first. If I got out of the truck, it would stay in a branch far away and not return to the nest.