For years on end, I've dreamt of tackling the White Rim Trail. I've read and re-read about it on various off-road sites and drooled over photos on this forum and tons of others of the narrow two track roads that cling to the sides of the towering cliffs it navigates you through.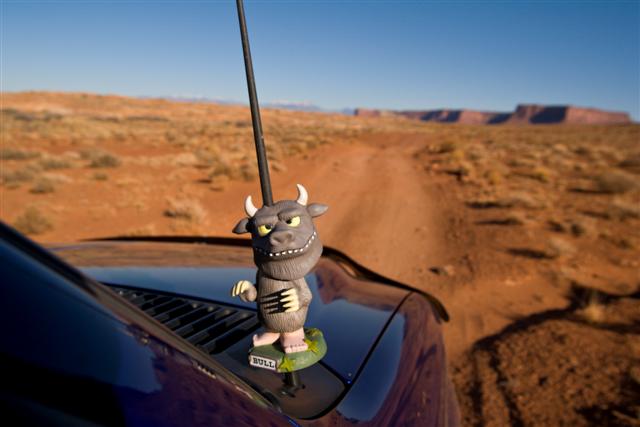 There is something about actually completing it that excites me to no end. Of course, we got a late start because if we were to get on the road early or even on time, it would just go against everything we stand for.
I mean we try and always have good intentions of getting started early or at least be on time, yet we're late to everything we attend and seem to be about two hours behind when it comes to getting started.
As one fellow photographer recently told me "I'm more of a Sunset Photographer than a Sunrise Photographer."
Around noon, once the truck was fueled up, the cameras were cleaned, charged and packed, the cooler was iced down and loaded in the truck, we left downtown Moab heading for Canyonlands National Park
I even washed the truck since I was planning on taking so many photos of it, I really wanted it to be glistening. Something I rarely do and normally dont care too much about....but this was a special occasion for Big Bubba (Our Trucks name) and I wanted him to look pretty.
We pulled up to the Visitor Center in Canyonlands National Park and I went in to get our permit and pay our $30 permit fee. The fee is good for 14 days of backcountry camping, but we werent planning on staying out there that long.
I'm just saying that incase anyone is planning a longer White Rim trip, they'll know there is a fee to camp. You can drive the trail during the day for free, but if you plan to camp, you have to have the permit.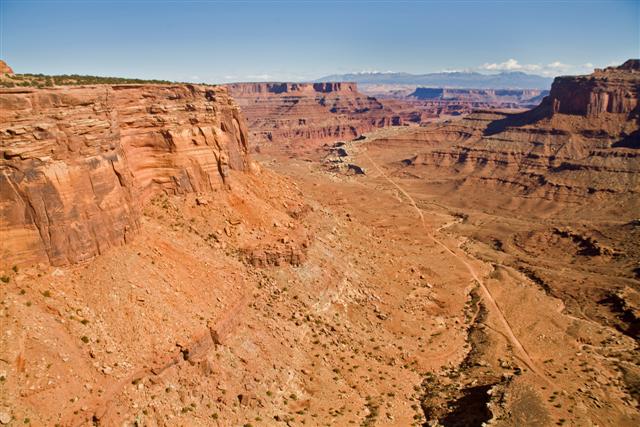 The Line Cutting Through the Bottom of the Canyon is the White Rim Trail
The trail gets under way very quickly and within the first few miles, you're already offered amazing views out into the deep valley below you. Then the fun really starts and you're heading down your first descent
We're talking tight, narrow switchbacks with a vertical drop off that wouldn't just mean a dented bumper or bruised ego, we're talking instant death and no chance for survival if you were to slide off the edge. Sorry for the crappy images, but with deep shadows on one side and bright sunlight on the other, it was the best I could do, and I've yet to get into the HDR stuff.[/COLOR][/FONT]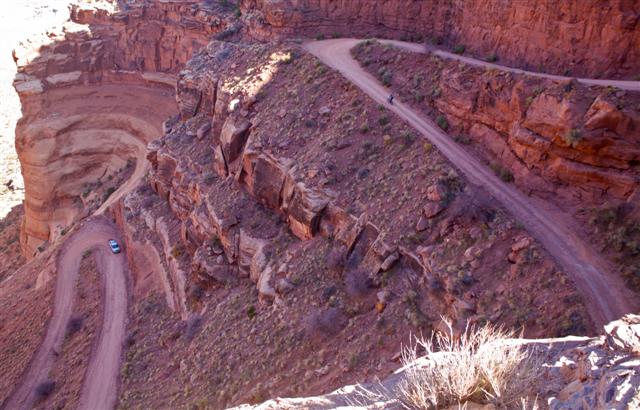 Schafer Switchbacks to get you started on the White Rim Trail
Luckily if you put our truck into 4Low, and put it in first gear, the top speed is about 4 mph and you never have to touch the brakes the entire time. We'd end up using this technique alot over the next 100 miles, but only for the downhills. We drove 99.9% of the trail in 2 Wheel Drive, but more on that later
The first section down the Shafer Switchbacks already had me wondering how people tackle this trail with Slide-In Campers on their trucks or in larger vehicles like Earthroamers or bigger Overland Vehicles. There were a few sections along this old cattle trail where our truck only had inches on each side to scrape past the rock walls. I wouldn't recommend this trail to anyone with a Dually or a Slide-In Camper
I was amazed when I suggested that my wife Cindy drive this first section of switchbacks because I wanted to get out and take pictures and she simply said "
Ok, I'll do it
!"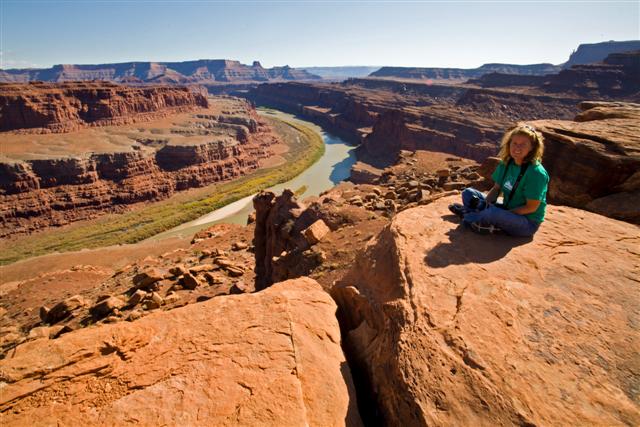 It seems the last few weeks, she's been tackling any obstacle that normally leaves her scared to death and doing it with a smile on her face. I was shocked when she crawled behind the wheel of the truck and continued to drive for the next hour through some seriously rough terrain.
Our first stop was at the Goosenecks above the Colorado River. This is a section where the river makes a series of 180° turns with unique cliffs along the edges. We found a cool hoodoo to climb out on for the mandatory jumping pose when you're perched on a edge like this.
Our second stop was Musselman Arch. This is a long arch that is big enough to walk across the top of. I was the first to go across the top after talking with a group of photographers who were out here from Arizona.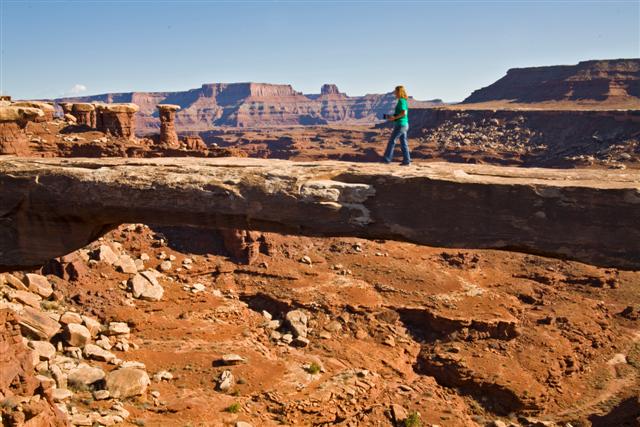 Cindy walking at a fast pace over the Musselman Arch
After I walked across, stopped to pose for photos out in the middle, Cindy piped up saying "
Ok, I'll do it
!"
What in the Hell has gotten into her? She walked over to the edge and proceeded to strut right across the top of this spectacular arch. She was walking so fast, I almost missed the shot because I was looking down to change a setting in my camera, and when I asked her to walk back across, she said "
Nope, I did it once and that's all I'm doing it
!"
We talked camera talk with the group of photographers for too long and were now way behind schedule, but it was fun to hear about their adventures and talk a bit about ours.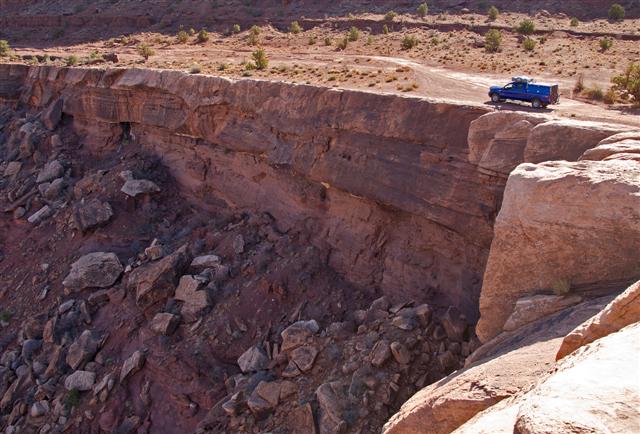 The trail was everything I expected it to be. Sections of deep sand, miles of teeth chattering washboard, slickrock climbs, big boulder navigating, loose gravel descents that leave your butt cheeks sore from being clenched so tightly and then there are the scenic views that make it all so worth while.
When I was in the Visitor Center talking with the Park Ranger, he had asked where we wanted to camp for the night. Since we were getting started so late, his first suggestion was the Airport Campsite because it was only 18 miles into the trail. There isn't really an Airport out here, its just the name of the campsite.
I told him that 18 miles would be way too short of a day for us, and asked what the next available campsite was. The next few sites were already reserved for the night, so our only other option was a campsite called Murphy Hogback, which was 44 miles into the trail.
I figured the trail was over 100 miles long, we were starting a little after noon and the sun was supposed to be setting around 6:30pm. That would give us 6 hours to travel 44 miles. No Problem!! [B]WRONG!![/B
If you're ever planning on tackling this trail, and by all means you should if you're into off-road exploration. Do yourself a favor and give yourself two full days minimum to complete the trail.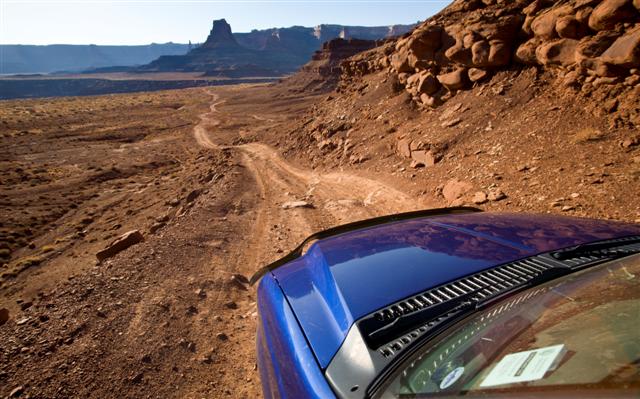 The Long Road to No Where - White Rim Trail
The endless views are around every turn and we stopped so many times to get out of the truck, walk amongst the slickrock and peer over the cliffs, that we barely reached the Airport Campsite as the sun was starting to set.
We both looked at one another knowing we didn't want to be driving one foot of this trail in the dark, let alone 30 more miles of it. Since we knew this campsite was available, we decided to call it a day and set up camp before it got dark. In retrospect, this was the best thing we've done in a LONG time.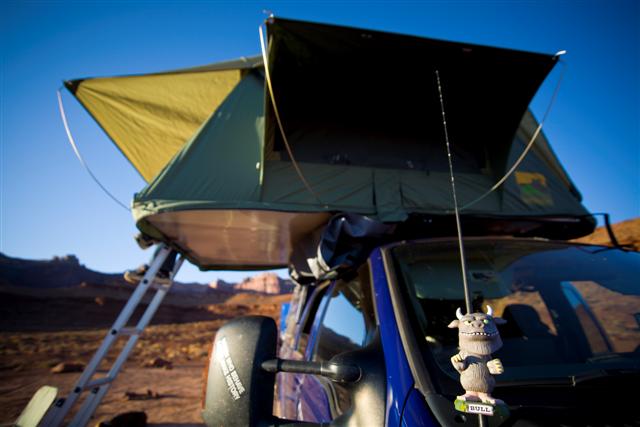 I got to setting up the Camping Lab Roof Top Tent while Cindy made us some dinner. Since we only brought cold food, our nightly meal was thick sandwiches made from cold-cuts with carrots and dip as an appetizer.
But no adult drinks or beers since Cindy say's we're back on a strict diet so we can slim up for the
VW Bus trip
next week. Of course this infuriated me since a camping trip seems so wrong without some cold adult drinks to sit and watch the sun set.
As we were sitting outside and I was sulking without an Adult Beverage, the wind started to pick up and unlike last weeks Utah winds that felt like they were that warm Santa Ana type breeze, tonight's gusts were dropping the temperatures every time they blew through.
Cindy said she was heading into bed, and I took a walk in that early evening glow all by myself. It was amazing to climb up on a section of boulders the size of semi-trucks and just sit there taking in the surrounding beauty.