It seems our last few weeks have been a non-stop blur of activity around our place here in Cedar Key Florida. I was jonesing to get some time behind the camera but we're too busy right now to take a day off and head out on the water. Although we've both promised one another that we're going to try and make that become a weekly thing.
A motel guest had checked out and left a bag full of crackers, bread and various chips to be thrown away. Rather than just toss them in the garbage, we usually pitch the food off the end of the dock so the birds and fish have something to eat.
I figured I could take a few minutes away from work and get some images out on the dock. The morning sun was perfectly positioned behind my back to provide really good lighting, so I asked Cindy to be the thrower while I'd take 25 minutes to fire off a few photos. Just to quench that thirst for some new photos to look at.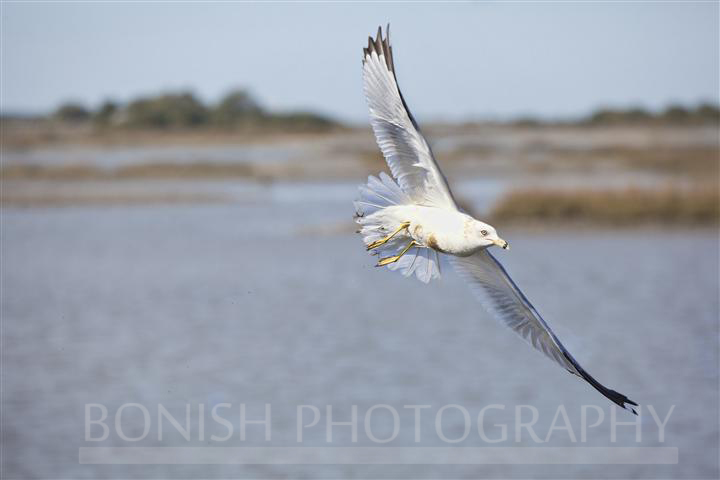 Plus, it keeps me sharp and allows me to practice on moving objects and trying to follow something that is flying at a high rate of speed. This is much harder than one might think it is.
This is one of those secessions almost anyone can sit in their back yard, the beach or in the park and accomplish. You don't need any special equipment and you certainly don't need a high powered zoom, just an assistant to toss the bread or crackers and you need to know what settings to have your camera set to so you'll get keepers.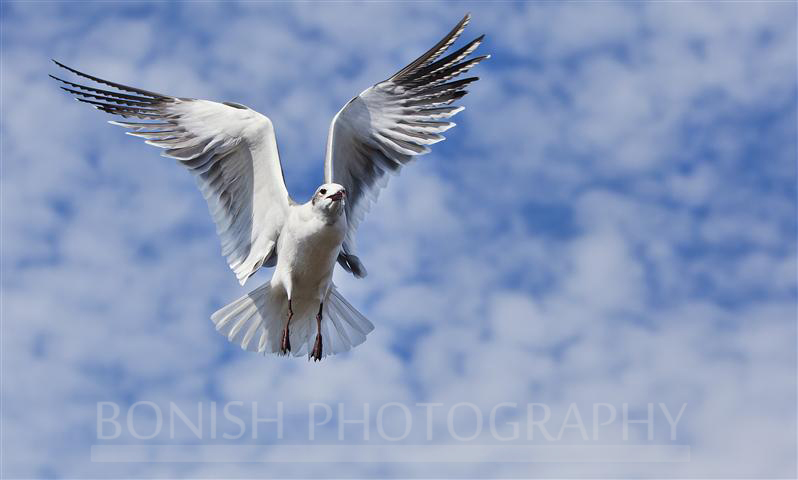 I had my camera set so the shutter speed was very high (1/4000th of a second), a mid-length depth of field (f/5 so the entire bird would be in focus, but the background would be somewhat blurred) and the camera itself was set in the Al Servo Focus mode. This mode allows the lens to maintain a focus on a moving subject. That's the trickiest part of this type of secession. If the bird happens to land, the focus will usually shift to something in the background or the water moving behind the main subject.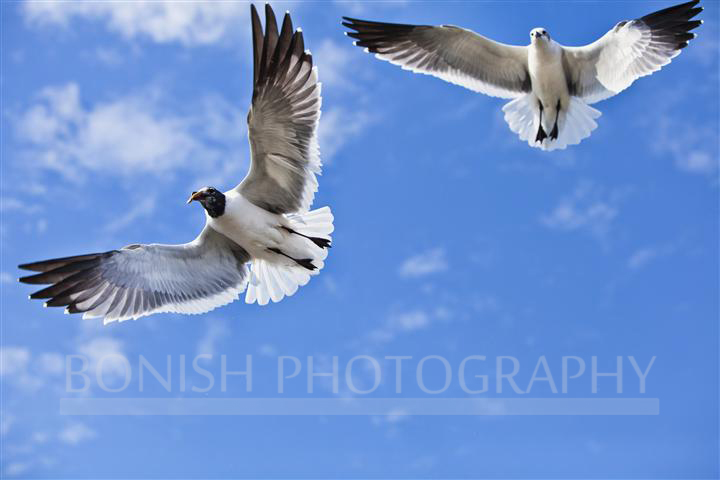 You'll need enough light to be able to set your cameras shutter speed to something really high; most of these were shot at 1/4000th of a second, so it stops the wings completely without any blur. This is why the low angle of the sun at my back, it was early morning (10am) worked out perfect for these shots because it put the birds just above my head, but the sun lit the underside of the wings so I didn't have any harsh shadows and there was no need to use a flash which will sometimes scare the birds when taking photos at a close range.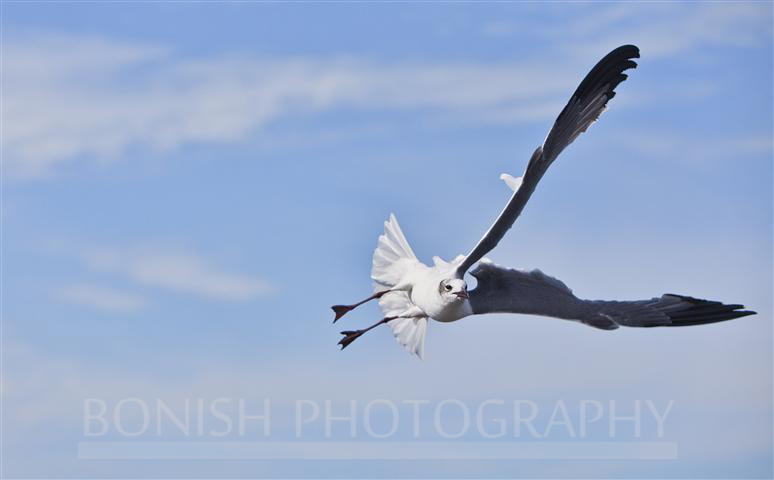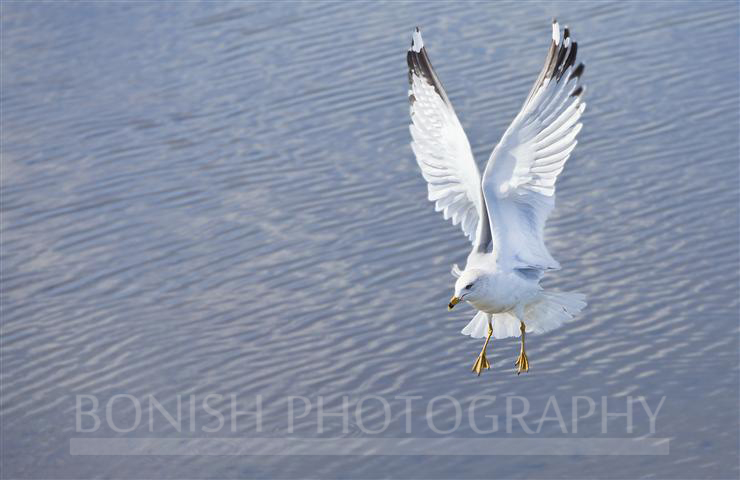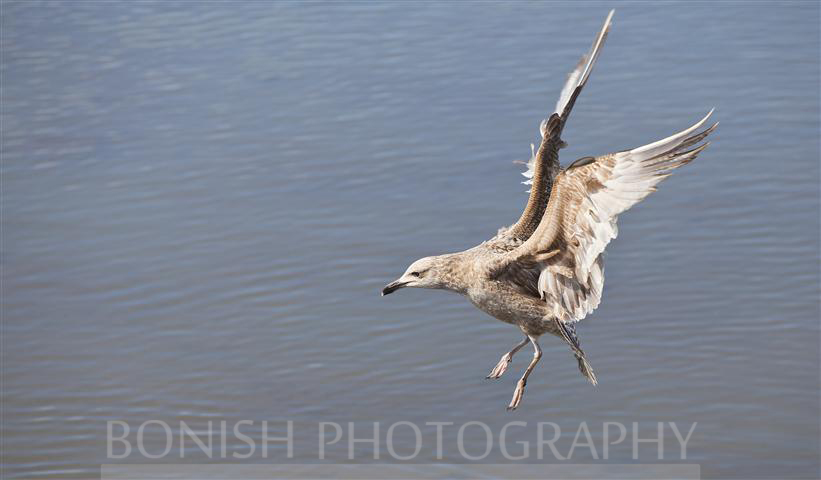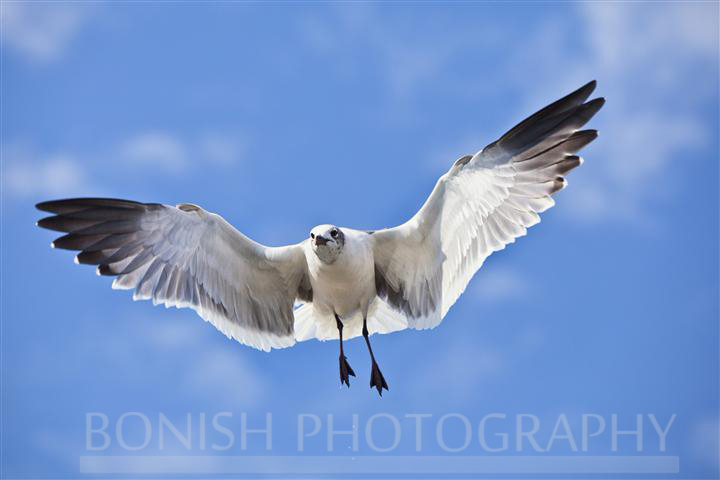 The only thing you need to be sure of is to keep the sun at your back, and you'll be golden. I also liked that there were some soft clouds in the background rather than just a solid blue sky. I think this helps make the Gulls pop out of the image, but I'd like to know what you think?
Something else Cindy and I learned is if she holds the food up in her hand right beside the camera, you'll get the birds flying directly at the front of the lens. When they get really close, almost too close to focus, she'll toss it up above my head so I can follow the flight path while the wings are flapping.
Word to the Wise:
Put a hat on so you don't get poop in your head or hair...LOL Not that this happened, but Cindy kept saying "
You know I love you if I'm willing to sit here risking these birds pooping on my head just so you can get some practice
."